A Good Funeral
---
---
What exactly is a 'good' funeral? Is it one that upholds tradition; is very sombre; family and friends in deep mourning. Perhaps a horse-drawn hearse, an oak coffin and hymns such as The Old Rugged Cross and Guide me O though Great Jehovah'..?    Lots of floral tributes, and a wake afterwards at the family home?
Or is it one which is at the opposite end of the funereal spectrum?   A wicker coffin, conveyed on a tractor and trailer, with the deceased's favourite songs belting out from an iPod, interment at a natural burial ground whilst everyone takes a turn in delivering the eulogy?   A balloon release, a charity collection in lieu of flowers, and a DVD of the event being put together for the deceased's brother out in Canada?   A firework display on a local hill in the evening with more singing and readings, perhaps?
The fact is, a 'good' funeral is one which is in accordance with the deceased's wishes, and helps the family and friends to feel comforted, and with the feeling that they have done their best by their loved one, who would have 'approved' of their service.   Easy –   but only as long as we knew what those wishes were.   Do you know what your good funeral would consist of?
Have you written it down?  Have you told someone?   As the Dying Matters awareness organisation tell us – "You only Die Once".    Make it a good death"    I would add – make it a good funeral too.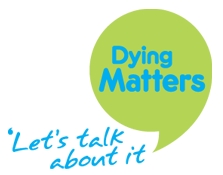 I was very proud to receive this accolade for a recent funeral…    I am pleased they will look back that their loved one had a 'good' funeral…..
"…Everybody that attended commented on how uplifting the service had been and how privileged they had been to attend such a lovely ceremony. I know that we provided the information but it was your diligence, hard work and professionalism that pulled it all together… The service ran so smoothly and at a perfect pace and this was all down to you and your meticulous planning.
Thank you once again from the bottom of my heart for that perfect service…".
====